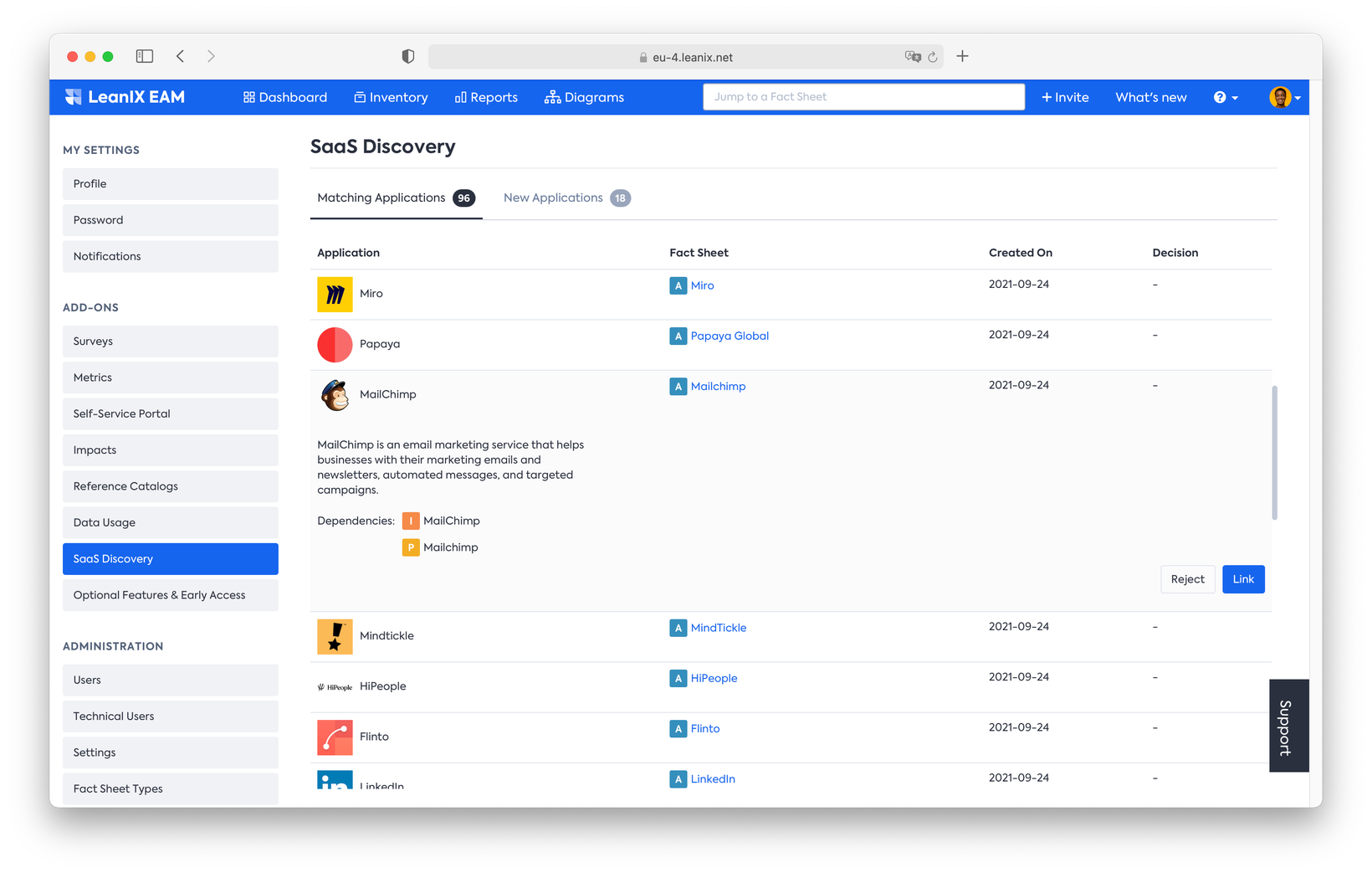 DATE:

AUTHOR:

LX Product Champions

RELATED ROADMAP ITEMS:
DATE:
AUTHOR: LX Product Champions
SaaS Discovery is now available in all APM workspaces to automatically discover SaaS applications by scanning SSO, CASB, financial, expense, credit card statements, and contract management systems. It provides visibility into an organization's SaaS ecosystem to help users eliminate waste and control spending.

Admins can activate the feature in their workspace admin area's new 'Optional Features & Early Access' section. When activating, admins will be guided through the opt-in steps of a necessary contract amendment and the provisioning of a new LeanIX SaaS Management Platform (SMP) workspace or the linking of an existing one.
Included in the activation is:
an extension of the data model, adding a dedicated SaaS Discovery section with additional fields to the Application Fact Sheet. Admins can configure which fields get synched in the 'Reference Catalog' section, and

the activation of the required new to-dos feature
After discovering SaaS applications in the SMP workspace, admins can match identified SaaS to Application Fact Sheets in the 'SaaS Discovery' section of the admin area. The SaaS applications can be linked to existing Fact Sheets, or new Application Fact Sheets can be created. Related provider and IT Component Fact Sheets of the SaaS applications that do not exist already will be generated. To facilitate the process for discovered applications, to-dos for creating and linking Fact Sheets for discovered applications are generated and can be assigned to users. To-dos and the linking status are visible in the side panes of the Fact Sheet details pages.
See the SaaS Discovery in APM section of the user documentation for all details.