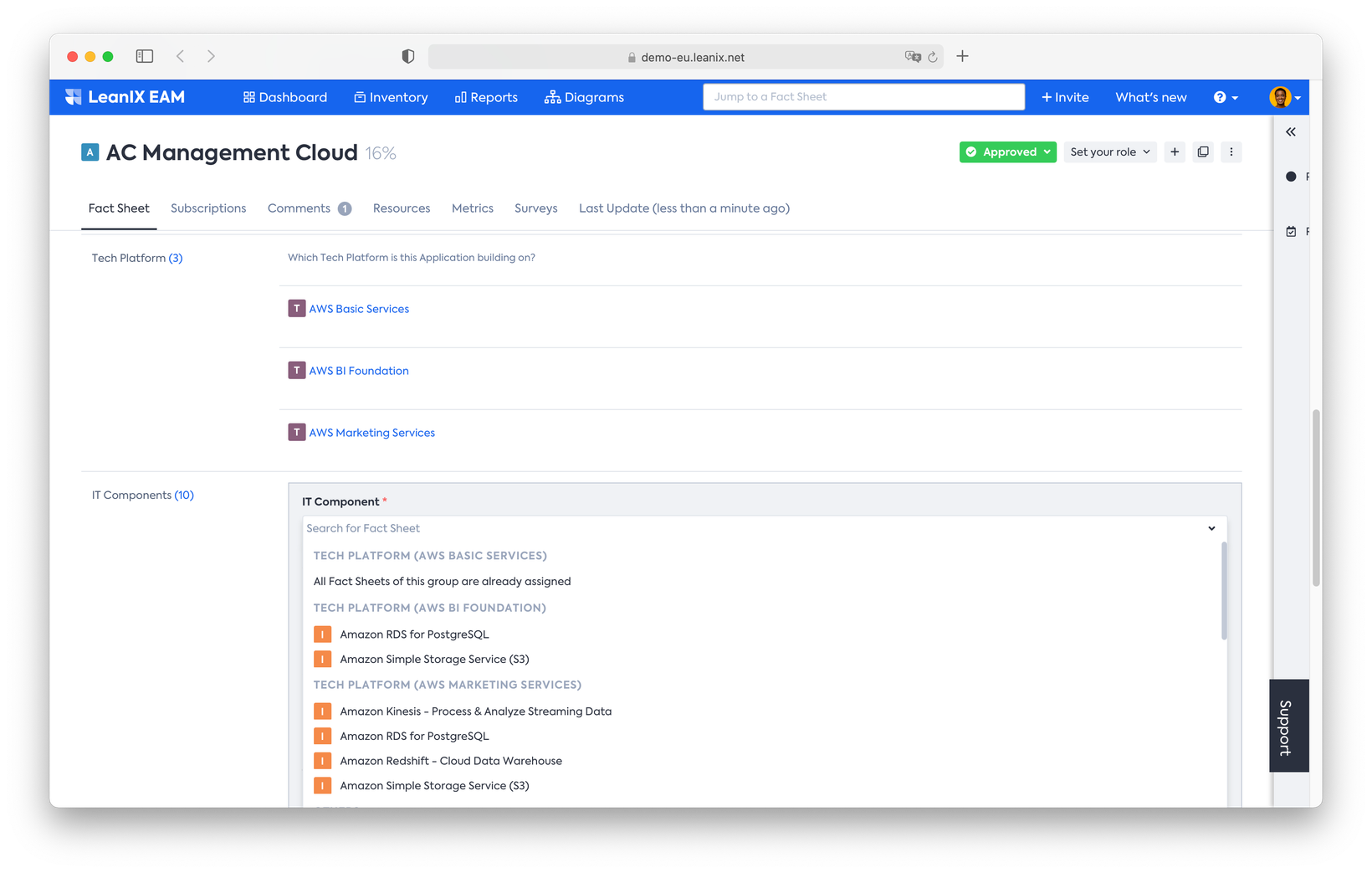 DATE:

AUTHOR:

LX Product Champions

RELATED ROADMAP ITEMS:
Optional Fact Sheet for Tech Platform
DATE:
AUTHOR: LX Product Champions
The new optional Fact Sheet type 'Tech Platform' can be activated in the 'Optional Features & Early Access' section in the admin area. Grouping IT Component Fact Sheets into Tech Platforms helps to streamline data entry and raise data quality. Users are guided to adhere to those standard platforms by having IT Components that are part of the linked platforms listed on top of the drop-down when adding IT Component relations to Applications.
The 'Optional Extension: Tech Platform Fact Sheet' section in the user documentation provides more specifics about this feature. Most important to know:
Activation can take up to 30 min. during which the workspace is not usable

Deactivation is only available through LeanIX Support

Applications can use several Tech Platforms

The Tech Platform Fact Sheet type is supported by the out-of-the-box reports

IT Components are not automatically added to the Applications, which use the Tech Platform

Enforcement of mandatory IT Components for Tech Platforms is not supported

It's recommended to rename 'Technical Stack' to 'Tech Category' with this installation for a clearer distinction.
The following descriptions helps to better distinguish between the two Fact Sheet types:
Tech Platform defines an assembly of IT Components as a standard platform for Applications and eases to maintain data quality and establish standards.

Tech Category (aka Technical Stack) groups IT Components into different categories of technology (e.g., database, webserver) to make IT Components comparable and visualize the IT landscape.