DATE:

AUTHOR:

LX Product Champions
Migration of ServiceNow Integration to K8s (Kubernetes)
DATE:
AUTHOR: LX Product Champions
All workspaces using the ServiceNow integration across all regions will be migrated to K8s. This enables users with greater stability in their sync runs and improved security from their runs being aborted due to internal product releases. The final migration for all users will take place on or after April 18, 2022.
Users do not have to take any action except in cases where they have IP whitelisting on their ServiceNow instance. In order to continue enabling integration to work post-migration after the final migration date, users need to whitelist a new IP address (23.97.217.0) and tick the 'User Proxy Server' checkbox as indicated in the screenshot below: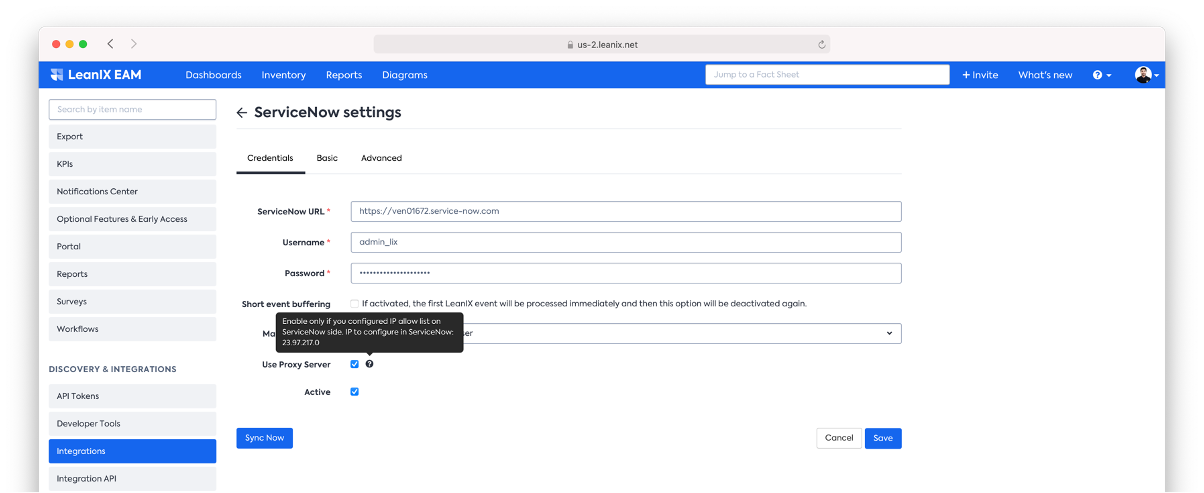 Users who have IP whitelisting and do not currently wish to migrate to K8s or change their whitelisted IP address can get in touch with their Customer Success Manager or let us know at [email protected].
Please refer to the 'Setup in LeanIX' section in the LeanIX user documentation for more information about the migration.