DATE:

AUTHOR:

LX Product Champions
EAM weekly feature improvement & bugfix summary
DATE:
AUTHOR: LX Product Champions
The following feature improvements have been implemented, and bugs fixed this week:
Reports:
Bringing more context from the Fact Sheets to reports, all the reports with the side panel now feature an additional tab with the Fact Sheet comments. Users can create and reply to comments in the same way as on the Fact Sheet.

This is the first step of our roadmap item to add more data (e.g., subscribers, resources) to the side panel.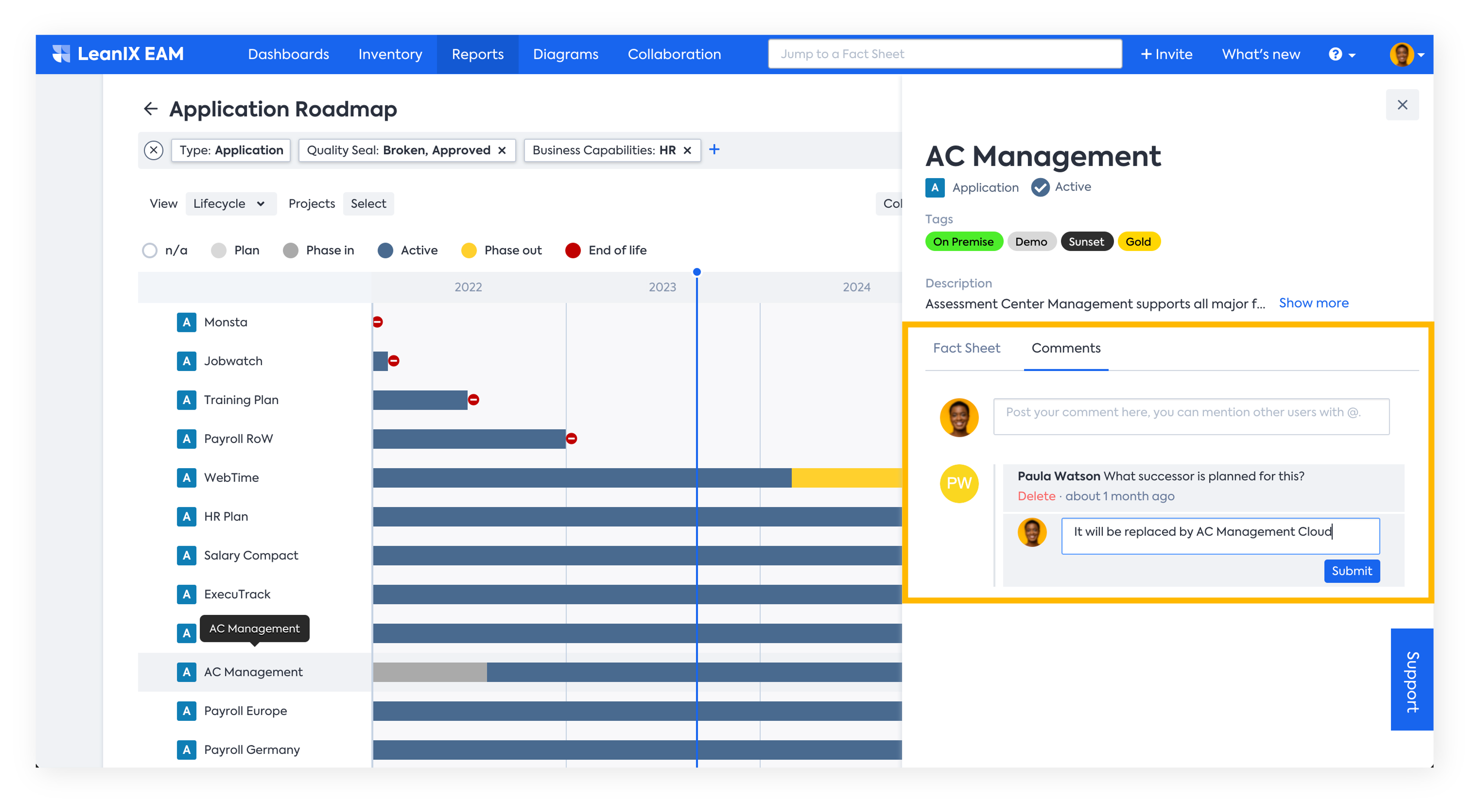 Clusters on Landscape reports in the 'Stacked' and 'Rolled-up' layout modes now appear narrower again without a dynamical width. This has been changed based on customer feedback.

The settings of Roadmap reports have an additional toggle to hide Fact Sheets that are not in the timeline of the report. When activated, all Fact Sheets that do not have a lifecycle within the visible or specified timeframe will be hidden. These Fact Sheets can be accessed from a banner that appears, indicating how many and which Fact Sheets are hidden.
Integrations:
It is now possible to filter in the admin area's 'Sync logging' section on the type of trigger the sync was scheduled for. This allows for quick filtering, leading to improved performance of sync logs with a high amount of data.

The integration with Collibra got extended to support:

The display names of mapped Fact Sheets are now visible in SAP Signavio. Previously, only 'LeanIX Fact Sheet' was shown. This helps get a full view of linked Fact Sheets with their names without the need to click the links.