DATE:

AUTHOR:

LX Product Champions
EA Management: APM
EA Management: BTM
EAM weekly feature improvement & bugfix summary
DATE:
AUTHOR: LX Product Champions
The following feature improvements have been implemented, and bugs fixed this week:
Next-Generation Diagrams:
To support understanding all aspects of data flows, the Next-Generation Data Flow diagrams show additional details in the side panel when a connector line is clicked. These lines represent Interface Fact Sheets and their related IT Components and Data Objects, as well as the 'Data flow direction', 'Interface type', and 'Frequency' are now listed.
When editing the diagram and performing a right-click on a connector line, the context menu lets users open the respective Interface Fact Sheet in a new tab.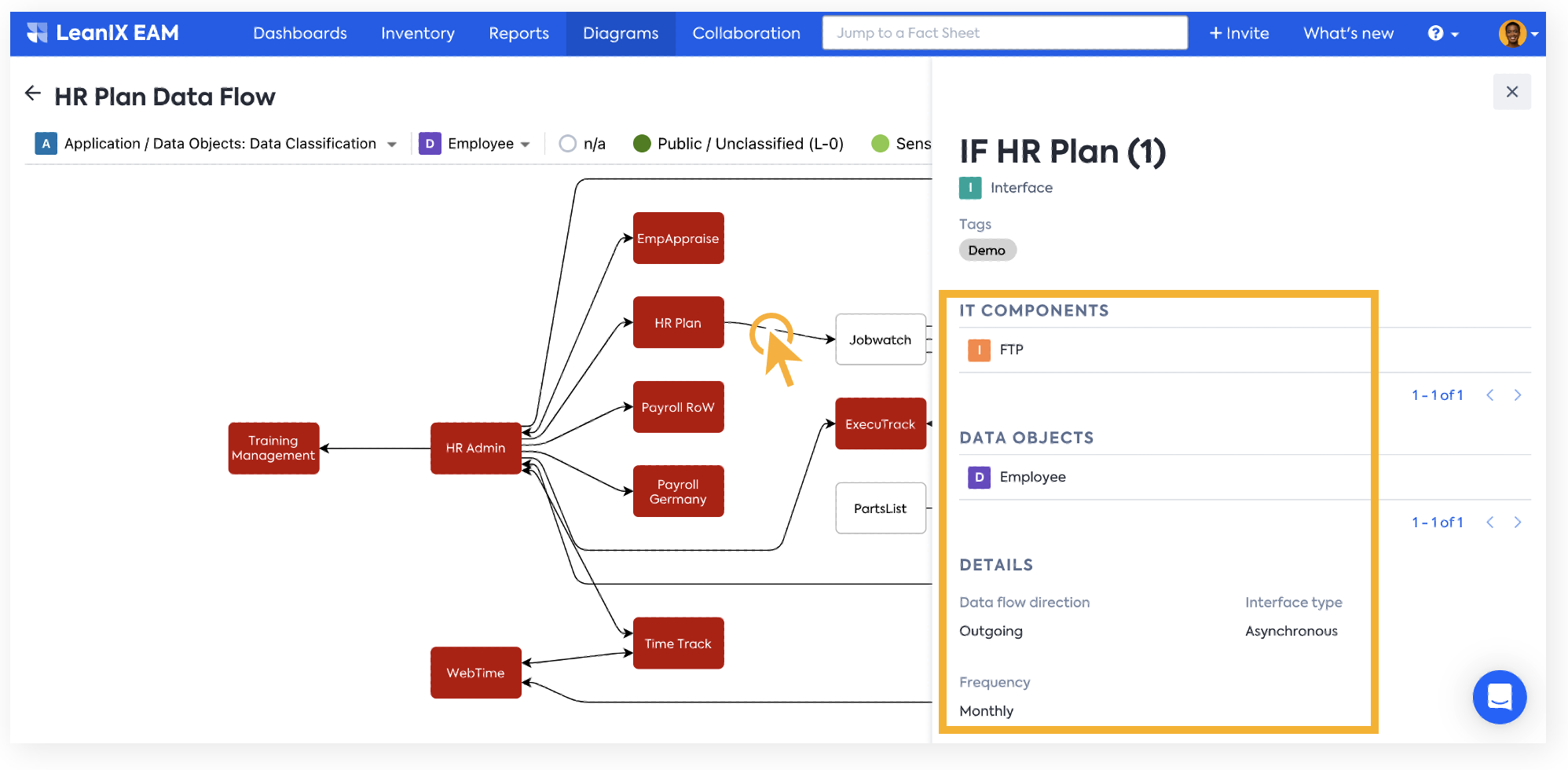 Meta Model Configuration:
Besides a set of predefined colors, admins can now choose any custom color of single-select fields. The color chooser includes a picker to select a color displayed on the screen.

Also, a bug was fixed that led to any empty translation after a text was entered in a translation field and then deleted before saving the changes.
Reports:
Two bugs on Matrix reports have been fixed. One is that a new Fact Sheet is now correctly added to an empty cell. The correct amount of not included Fact Sheets due to missing data is now shown for the other one.

The Landscape report exports PDF documents to the entire width of the selected dimension.

Newly installed custom reports (e.g., from the LeanIX Store) can be opened immediately after activating them without a reload of the page.
Automations:
Automations can break when workspace configurations change (e.g., subscription roles, fields, or tags are deleted or renamed). When entering an Automation configuration affected by such a change, the missing values are now highlighted with 'Value not found'.
Business Transformation Management (BTM):
Transformations can now be copied or moved between Project / Transformation Item Fact Sheets easing the management of transformations across multiple projects.