DATE:

AUTHOR:

LX Product Champions
EAM weekly feature improvement & bugfix summary
DATE:
AUTHOR: LX Product Champions
The following feature improvements have been implemented, and bugs fixed in the last week:
Inventory: The width of the Fact Sheet labels has been increased by 40px and the last label in the Relations Explorer is now displayed without ellipsis to provide more visibility into Fact Sheet names in the Relations Explorer.
Diagrams:
The Next-Generation Diagram Editor has been improved to support views on relations for Pace Layering. The Pace Layering has three options - 'Innovation', 'Differentiation' and 'Commodity' displayed in different colours. Once the diagram is drawn, select the Business Capability Fact Sheet and apply the view for 'Pace Layering.' Users now have the option to choose for which User group the Pace Layering category is to be displayed. For e.g., applying Pace layering on the relation between the User Groups Fact Sheets 'Headquarter' and 'France' linked to a Business Capability Fact Sheet 'Credit Card Payment' displays if Credit Card Payment Business Capability is an 'Innovation,' 'Differentiation' or 'Commodity' capability for business units 'Headquarters' and 'France' respectively.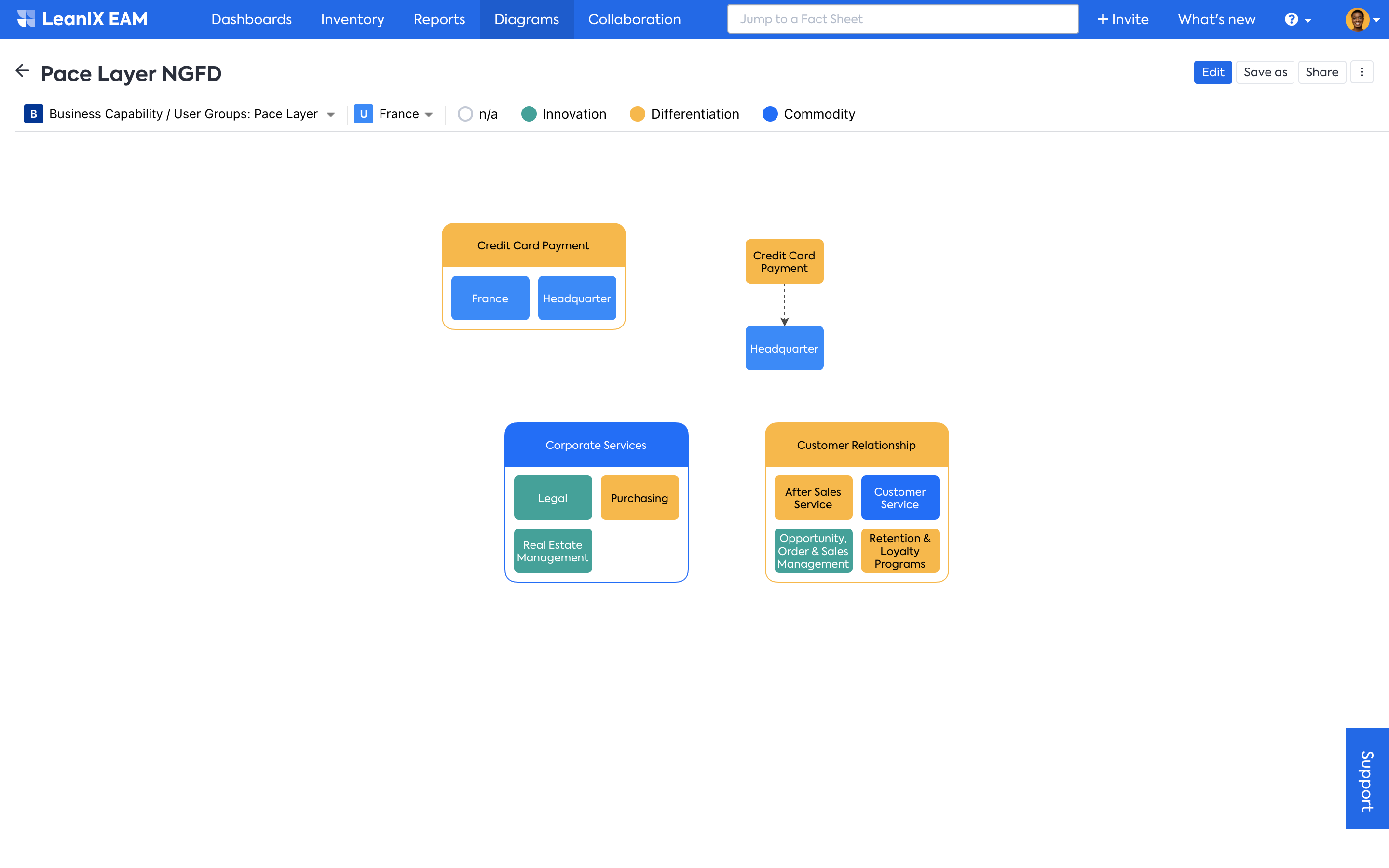 A bug has been fixed which led to overlapping of canvas with the view toolbar causing shapes to be hidden.
Reports:
The bug that created inconsistency in report views while filtering on relations in the Business Capability map reports has now been fixed.

A bug has been fixed which earlier caused wrong cluster to be displayed when expanding a drill-down item in the Roadmap reports.

The Portfolio reports have been improved to display Fact Sheet names alphabetically in the side-panel.