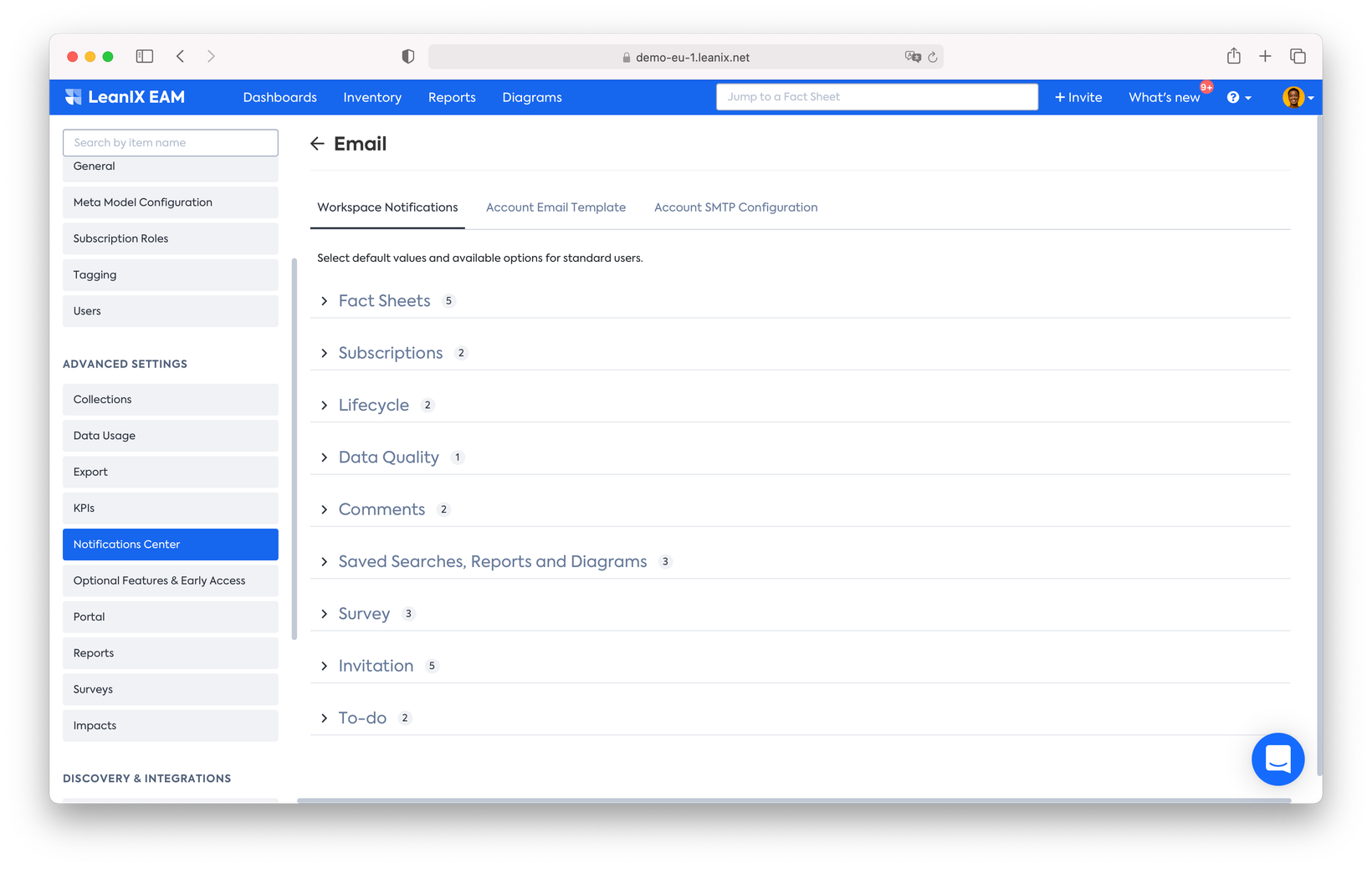 DATE:

AUTHOR:

LX Product Champions

RELATED ROADMAP ITEMS:
Configure message reception with the Next Generation Notifications
DATE:
AUTHOR: LX Product Champions
LeanIX is excited to announce big improvements surrounding Notifications to make collaboration amongst LeanIX users even more engaging, intuitive, and easy to tailor to the users' needs. Not only did the Notifications receive a layout upgrade for an improved user experience, but the new Notification Center in the admin section also provides admins with the ability to easily configure default notification settings for the users of their workspaces, and send out notifications as HTML emails and in other channels.
This new area allows admins to easily configure how the users of their workspace receive notifications. Admins are able to disable all notifications for users, mute notifications triggered by technical users, configure the default notification settings for their workspace users, define the frequency of notifications, and even determine notification rules based on specific topics. The Notification Center also offers the admin to configure the look of the emails that are sent out as HTML emails, are well-structured, and take custom styles from the workspaces like colors and logos into account. Admins can further configure a custom SMTP server in the Notification Center to increase trust in authenticity. Additionally, it provides an audit log enabling admins to see which notifications have gone out recently.
For non-admin users, the new notifications settings allow them to opt-in to certain notification domains and topics within their workspace and determine how often they would like to be informed about them (i.e., instantly, daily, weekly, or never) based on the defaults provided by the admins.

These notifications are also available in the Microsoft Teams channel, except for notifications about user invitations and password recovery, which will only be sent through email. As a next step, notifications will also be available in the Slack channel. It is recommended to keep the notifications active to increase engagement and build a strong community around the workspace, at least until that LeanIX community is self-sufficient.
Please look into the "Notifications Center" and "Notifications" sections in LeanIX user documentation for more details about this feature.