DATE:

AUTHOR:

LX Product Champions

RELATED ROADMAP ITEMS:
Automated switch to TBM Taxonomy
DATE:
AUTHOR: LX Product Champions
To simplify the movement from the legacy Tech Category to TBM taxonomy for all TRM workspaces, a simple three-step automated migration has been introduced:
Import TBM: Select this option to easily import the complete TBM taxonomy. However, for partial adoption of TBM, admins of the TRM workspaces can use 'Import Wizard' and skip this step.

Assign IT Components to TBM: Reassign all IT Components into TBM for those IT Components already linked to the Lifecycle Catalog and have been imported in the first step.

Clean up legacy Tech Categories: To avoid managing multiple taxonomies, archive all legacy Tech Categories previously created by the Lifecycle Catalog with one click. This step ensures a clean state of the workspace and complete alignment with TBM. Any IT Component manually assigned to archived Tech Categories has to be reassigned to the imported TBM Tech Categories. If there is no legacy Tech Category, this step can be skipped.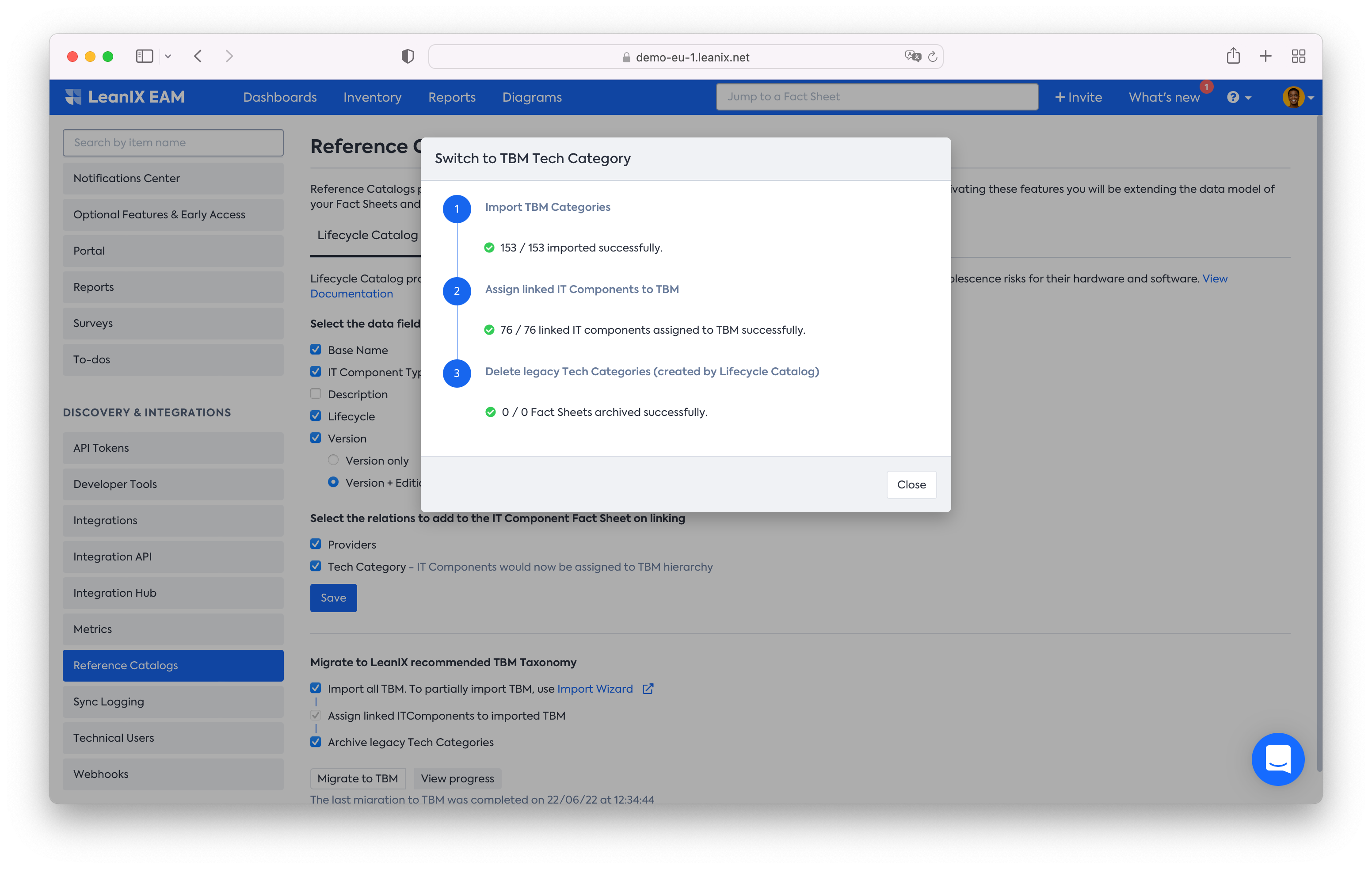 The best practice recommendation is to select all three steps for migrating to TBM to ensure all linked IT Components are assigned to Tech Categories, and the Tech Category taxonomy is fully aligned with TBM. Once all the three steps of automated TBM migration are complete, all future linking of IT Components to the Lifecycle Catalog assigns TBM Tech Category to the linked IT Component.
For more details about this feature, please consult the 'Tech Category Catalog' section in the LeanIX user documentation.